Also to be screened at Tokyo International Film Festival next Friday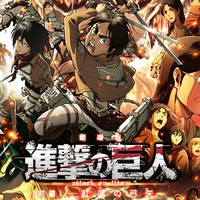 The official site for the Attack on Titan anime project has announced that its first compilation film Attack on Titan: Guren no Yumiya, which compiles the first 13 episodes of the TV anime, will get 4DX screenings at the two theaters in Tokyo (Cinema Sunshine Heiwajima) and Hiroshima (Fukuyama Corona Cinema World), simultaneously with its general release across Japan on November 22. 4DX is a new technology to provide various environmental effects including seat motion, wind, mist, scents, and flash, to the audience in the theater. So it may give you a feeling of using Vertical Maneuvering Equipment?
Attack on Titan: Guren no Yumiya will be the second Japanese anime film gets 4DX screening, since Shin Gekijo-ban Initial D: Legend 1-Kakusei's 4DX edition was already screened at five theaters in early last month, but it was six weeks after its general release in Japan on August 23. So the official site is
correct with its comment, "the first anime film in history which gets 4DX screenings simultaneously."
In addition, the official site for the on-going 27th Tokyo International Film Festival has announced its
screening schedule. Attack on Titan: Guren no Yumiya, which is listed as a special screening program,
will be shown at 12:45 on October 31. And it also says the length of the film is 119 minutes. No surprise,
the ticket is already sold out.
"Guren no Yumiya" Trailer
4DX® promo
Key visual
Source: "Attack on Titan" anime project site, Tokyo International Film Festival
© Hajime Isayama/Kodansha/"Attack on Titan" Production Committee