John Lasseter discusses work and influence of Hayao Miyazaki at Tokyo International Film Festival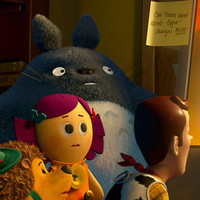 While the Tokyo International Film Festival is presenting "The World of Hideaki Anno," Studio Ghibli co-founder, producer and former president Toshio Suzuki has explained that the work of Hayao Miyazaki would have been featured if he hadn't retired. So, it's appropriate that when invited to discuss "Cool Japan," the Japanese government's slogan for promoting the nation's culture industries, John Lasseter, chief creative officer at Pixar, Walt Disney Animation Studios and DisneyToon Studios, spoke about Miyazaki's work and influence.
Hollywood Reporter relays that, appearing to tear up several times during his one-hour talk, Lasseter said: "Whenever we get stuck at Pixar or Disney, I put on a Miyazaki film sequence or two, just to get us inspired again."
Lasseter met Miyazaki when working at Disney, his team met with a group of animators from TMS, including Miyazaki. During the meeting, Miyazaki's boss showed Lasseter and his colleagues a short clip from Miyazaki's first feature, The Castle of Cagliostro.
"I was absolutely blown away," Lasseter said. "It had a very strong effect on me because I felt that this was the first animated feature film I had seen that had a vision to entertain for all ages. It made me feel that I was not alone in the world." He added: "It filled my soul with a drive that said 'this is what I want to create."
In 1985, when he first met his future wife, then Nancy Tigg, at Disney, he invited her to his apartment after a dinner with a group of mutual friends and insisted on playing her the cassette of Miyazaki clips. "Luckily for me, she loved it," the executive said, drawing big laughs from the Tokyo crowd of several hundred. " She's the love of my life. And I'm not kidding you, I wooed her with Hayao Miyazaki's first film. When I say Japanese animation has had a profound effect on my life, well, there's proof positive."
Lasseter also discussed his efforts to bring Miyazaki's works to international audiences. "I wasn't happy with how the earlier films were brought over into English," he said. "I wanted to protect his vision, so that English audiences would understand his films at the same level that Japanese audiences do."
read Hollywood Reporter's full account of the talk here
------
Scott Green is editor and reporter for anime and manga at geek entertainment site Ain't It Cool News. Follow him on Twitter at @aicnanime.