Clear files will be available at the upcoming anniversary festival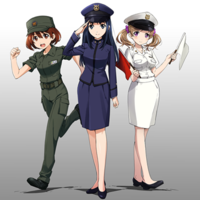 National Defense Academy of Japan plans to hold its 62nd anniversary festival on November 8 and 9. To support the event, Kazuhiro Takamura, best known as the director of the military-featured moe anime series Strike Witches, designs three original mascot girls representing the land, sea and air forces.
It has been very famous that Fumikane Shimada, the original character designer for Strike Witches, has also drawn three mascot girls for JSDF's Okayama Provincial Cooperation Office. The 62nd anniversary event will display life-size panels of the three girls, and will sell clear files featuring the images below.
Amaha Ruri (Air Force)
Touka Fujisaki (Ground Force)
Shion Minase (Maritime Force)
via: Netlabo