Slated for the Golden Week holiday period in 2015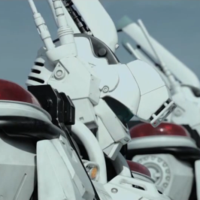 Cinema Today has posted the 1-minute first clip from the upcoming feature film edition of The Next Generation -Patlabor- live-action series, written/directed by Mamoru Oshii, featuring the gun battle between the two AV-98 Ingram and a stealth helicopter named "Gray Ghost" on a bridge looks like Yokohama Bay Bridge. As the fans of the old series remember well, the bridge was destroyed in the 1993 anime film Patlabor 2: The Movie also directed by Oshii. According to Cinema Today, the story of the feature film focuses on the battle of the members of the 2nd Special Vehicles Section against a terrorist group who takes 10 million people in Tokyo as hostage.
The 5th chapter consisting of the 8th and 9th episode is now screened for a limited time of two weeks
from October 18 to October 31. After two more chapters released (6th on November 29, 7th on January
10, 2015), the 100-minute feature film hits Japanese theaters in the Golden Week holiday period,
between the end of April and the beginning of May of 2015.
via: Cinema Today
© 2014 "THE NEXT GENERATION -PATLABOR-" Production Committee