The suspect has admitted to the charge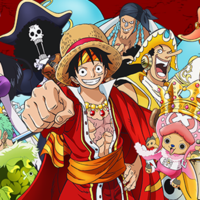 On October 29, Okayama Prefectural Police's Consumer and Environmental Protection Division and its Misaki station arrested a 45-year-old male office worker from Nagoya-city, Aichi Prefecture, for suspicion of copyright infringement for selling one dollar bills with the character images of the popular anime series One Piece (you can check the pics here).
According to the police, between this early March and the middle of August, the suspect made stickers using the character images (Zoro, Sanji, Nami) from the One Piece anime films to put on a real one dollar bill, then sold the four bills via an internet auction site. The bills were auctioned for 1,500-1,600 yen by the bidders in Nara and Nagano.
The police has already searched his house and seized 50 to 100 one dollar bills using the images of
celebrities and other popular anime titles including Disney Animation's Frozen. The suspect has
admitted to the charge against him.
Source: Yomiuri, Asahi, Sankei
One Piece image © Eiichiro Oda/Shueisha/Fuji TV/Toei Animation