The title of the 12th TV series?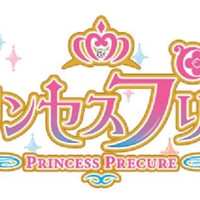 A trademark for the title "Go! Princess PreCure" was filed with the Japan Patent Office (2014-084526) for a variety of goods on October 7, and made public this morning on October 30. Then the news immediately spread through the PreCure fan community.
A title for a new PreCure TV series is usually first revealed via the JPO around this time of the year, so it is natural to assume that "Go! Princess PreCure" will be the title for the next PreCure TV series, though what we can confirm is only the image of the title logo and the PreCure series already has "Cure Princess" in the ongoing HappinessCharge PreCure.
Source: Trademark Gazette Data Base via Netlab