ED theme "Hurly Burly" performed by Perfume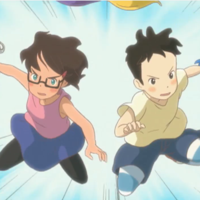 YKK Corporation, the world's largest zipper/zip manufacturer headquartered in Tokyo, has posted a 11-minute anime promotional video FASTENING DAYS, produced on the theme of "Little Parts. Big Difference." It is directed by 26-year-old independent creator Hiroyasu Ishida, who is best known for his 2009 short Fumiko no Kokuhaku/Fumiko's Confession which has been viewed more than 3 million times on the web. Popular three member group Perfume provides "Hurly Burly" as the ED song for the short, which was originally included in their 16th single "Spending all my time" released in August 2012.
YKK is posting the short dubbed in five languages - Japanese, English, Spanish, French and Chinese
(Simplified & Traditional) on its official YouTube channel. As of now, the Japanese and English versions
are available. Check them below.
The officiall story synopsis:
Yoji and Kei, a boy and girl, live in a town in the not-so-distant future with their foster parent, Anna.
But these seemingly ordinary children have a secret hidden even from their unsuspecting mother:
Yoji and Kei are superhero defenders of their town!
With a flap of their capes, the two of them and their robot bear sidekick, Oscar, protect the citizens
in their town with their handmade high-tech machinery. But from what menace?
And will our little heroes be able to overcome the crisis about to threaten the town's peaceful everyday serenity?
Check out this utterly electrifying near-future animation to find out!
"FASTENING DAYS" Japanese version
"FASTENING DAYS" English dub version
"Fumiko no Kokuhaku/Fumiko's Confession"
via: Natalie