Square Enix cites quality issues for the delay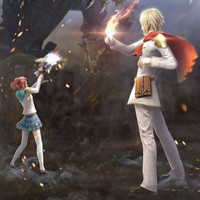 The latest Final Fantasy spinoff, Final Fantasy Agito+, was previously slated for a January 15 release, but now it looks as though Final Fantasy diehards will be waiting quite a bit longer to finally experience the game. So long, in fact, that there hasn't even been a date announced for the game. Yikes!
According to Square Enix, the delay was cuased by technical issues, and they are working to improve the game's quality, then announce a new release date.
Fortunately, the mobile version of the game is free in Japan and you can still play it for a taste of what to expect from the PlayStation Vita edition. And speaking of mobile, the quirky Final Fantasy VII G-Bike title was delayed as well, from Thursday of this coming week to Friday instead.
Hopefully these release date pushbacks mean even better titles, right?
[via Anime News Network]
-------
Fueled by horror, rainbow-sugar-pixel-rushes, and video games, Brittany is a freelancer who thrives on surrealism and ultraviolence. Follow her on Twitter @MolotovCupcake and check out her portfolio for more.