Guest appearance by famous Japanese comedian Audrey Kasuga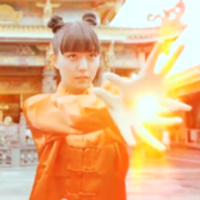 Five member Japanese rock band Czecho No Republic will release their 4th major single "Oh Yeah!!!!!!!" in Japan on November 12. It has been used as the ED song for the Dragon Ball Kai/Dragon Ball Z Kai TV anime since its 124th episode aired on October 5.
The recently posted PV for the song features a Kung fu girl who becomes able to fire her Kamehameha-ish energy blast after the training with her old master. The video also has a famous Japanese comedian Audrey Kasuga, one member of owarai duo Audrey. Kasuga has been a friend of the band and agrees to appear in the PV as a delivery man from a Chinese restaurant.
"Oh Yeah!!!!!!!" PV
CD jacket illustration
Artist photo © 2014 Czecho No Republic.
via: Natalie