The 1st novel "Night Episode and Lost Memory" hits stores November 8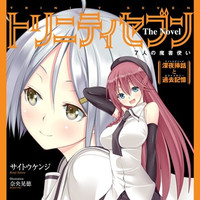 Currently Kadokawa has listed two volumes of the novel adaptation of the Trinity Seven: 7-nin no Masho Tsukaiaction fantasy manga, which are also written by the original story creator Kenji Saito with art by Akinari Nao. Saito, who is best known for his scenario works for various adult PC games, has written three light novel series for all ages including The World of Sword and Dragon illustrated by Kurogin (Cross Ange costume designer).
The first volume titled "Trinity Seven: 7-nin no Masho Tsukai The Novel: Night Episode and Lost Memory" is scheduled to be released on November 8, simultaneously with the 10th volume of the manga. Then the second volume "Eternal Library and Alchemist Girl" will follow on December 29. The novel series focuses on the past of the seven magicians, which have never been told in the manga story. Yo can read the first 16 pages of the first volume here (pdf file).
The ongoing TV anime adaptation of Trinity Seven produced by Seven Arcs is now available to Crunchyroll's
Premium audience worldwide except Asia, and available to free users in the following territories: USA,
Canada, UK, Ireland, Australia, New Zealand, South Africa, Denmark, Finland, Iceland, the Netherlands,
Norway, Sweden.
"Trinity Seven The Novel: Night Episode and Lost Memory" cover
Manga 10th tankobon cover
Latest TV CM for the manga series
via: Comic Natalie