Directed by Shinji Takamatsu (After War Gundam X, Gintama)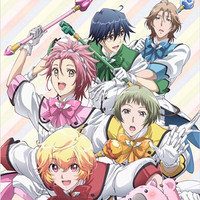 The official website for the upcoming original TV anime Binan Koukou Chikyuboeibu Love! (Handsome High School Earth Defense Club Love!) was yesterday updated with a new key visual featuring the five protagonist boys in the "Battle Lovers" costume.
The story centers on the five students in the Boeibu/Defense Club (aka "a club to do nothing") at the Binan High School. Involving the battle between the two mysterious creatures came from the outer space, they have to fight against Seifukubu/Conquest Club (Student Council), as the successors to the throne "Battle Lovers."
52-year-old Shinji Takamatsu, known for his directorial works for Sunrice, such as The Brave Express Might Gaine (1993), After War Gundam X (1996), and the recent Gintama (2006-), directs the hero comedy
series for Diomedea (Squid Girl). It is scheduled to premiere in Japan in January 2015.
It is also announced the franchise will have a social game for iPhone/Android, titled Binan Koukou Chikyuboeibu
Love! Game! to be released in February 2015. It will be an Otome game which the player can enjoy multiple
love stories with the male characters.
TV anime new key visual
1st key visual
TV anime PV
Key visual for the game
Screen shots
Source: TV anime official site, the game's official site
© Kurai Umatani/Kurotamayu © anipani Corp.