New song "border" will be used as the ED for "Tsukimonogatari"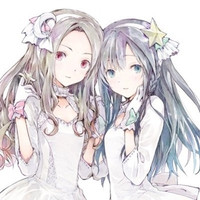 The official website for ClariS is today updated with a character visual featuring the new member Karen, illustrated by Otohiko Takano. Takano has drawn illustrations for several light novels including Suitei Shoujo (Kazuki Sakuraba, 2004) and Tsukikoi (Chiaki Yamashina, 2007) .
Five months after Alice, one of the two original members left the unit in order to concentrate on her studying
in May, their official site announced on October 25 that they would introduce a new member with a new song
"Clear Sky." The song is included in a bonus CD bundled with the 19th issue of M-ON! Entertainment's Lis
Ani! released in Japan today on November 8. While there is no detailed information about the new member
Karen, according to the revised biography, she is also a high school girl like the only remained member Clara.
It is also announced that their new 11th single "border" is scheduled to be released from SME Records on
January 7, 2015, and it will be featured as the ED song for the upcoming four-episode TV anime adaptation
of Ishin Nishio's Tsukimonogatari novel. The four episodes will be aired on December 31 all at once.
And more good news for the fans, they will perform in the Lis Ani! Live-5 event to be held at Nippon Budokan
on January 24 and 25, 2015. This is the second time for the unit to perform in public since the "New Year's
Festival Hajimari no Yokan" event at Zepp Tokyo on January 5, 2014. But in the 2014 event, they kept
performing behind the curtain on the stage and what the fans could see was only the two members'
silhouettes. It is unclear if they will finally show their faces on the stage in the January 2015 event.
Source: ClariS official site
© SME Records Inc.