Roster of contributes pay tribute to the ending headliner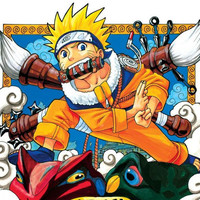 Along with this the final chapters of Naruto, next week's Shonen Jump features comments from the magazine's other contributors. So, good timing for the likes of Sporting Salt's Yuto Kubota, who timed to work to put their impression on the landmark issue 50.
Masashi Kisimoto – Naruto
In accepting the final story, there are both happy and sorrowful (mixed feelings/a complicated mental state). Nevertheless, I'm able to speak clearly(/bluntly), thank you to all the readers. To the end, I truly thank you. Otsukaresama dattebayo!!
Yusei Matsui – Assassination Classroom
It's been an honour to be present/witness to the end of great footprints. Masashi Kishimoto, truly, Otsukaresama Deshita.
Yuji Kimura – Garden
I ought to be able to commemorate and honor this issue of Weekly Shonen Jump by garnishing it with flowers. I await your thoughts/impressions.
Eiichihiro Oda – One Piece
Both my friend and rival. Thank you for 15 years of cheerful/heartfelt serialization!! Kishimoto-san, Otsukaresama!!
Kohei Hirikoshi – My Hero Academia
Naruto was my youth (/springtime of adolescence) itself. Thank you for the greatest Shonen manga.
Yuto Tsukuda and Shun Saeki – Shokugeki no Soma
During middle/junior high school, the work that (we) came across (by chance) is finally…! Kishimoto-sensei, Otsukaresama Deshita! We both really agree! (followed by the author names)
Kawada – Hinomaru Sumo
Ever since the time I was a student, I really enjoyed (myself) reading it. I admired (you). Kishimoto-sensei, Otsukaresama Deshita!
Hideaki Sorachi – Gintama
When Shinobi pass by, as I expected, the wind/breeze was refreshing. Kishimoto-Sensei, A resounding farewell, dattebayo
Shuichi Aso – Flame of Saiki Kusunoki Takeshi
This week's end of serialization, became an amazing (can mean dreadful) thing. (laughs) Kishimoto-Sensei, Otsukaresama Deshita!
Haruichi Furudate – Haikyuu!!
I was very honored to have collaborated at Anime Festa. I'm always aspiring to be as cool/attractive/stylish as Naruto.
Mitsutoshi Shimabukuro – Toriko
Uooh! Kishimoto-san, for 15 years, truly Otsukaresama Deshita! Naruto, Thank you!
Naoshi Komi – Nisekoi
To be witnessing/present for such a great conclusion of a serialization, I feel happy! Truly, Otsukaresama Deshita!
Daisuke Ashihara – World Trigger
Closing one of Jump's histories, Kishimoto-Sensei, a long serialization for 15 years, Otsukaresama Deshita.
Shinsuke Kondo – Juudouzu
15 years of Jump's supporting and continued great undertaking. Respectfully from the bottom of my heart, Kishimoto-sensei, Otsukaresama Deshita!
Ippei Goto – Hi-Fi Cluster
Kishimoto-sensei, for a while now, Otsukaresama Deshita. I ought to, and am honored, to be able to commemorate and be involved (with you) in this issue Weekly Shonen Jump.
Ryo Nakama – Isobe Iso Hyoe Monogatari
To come after Naruto, as a young mangaka, Now, I'm fired up and dreaming/looking forward. I'll also do my best.
Tite Kubo – Bleach
Kishimoto-san, Otsukaresama Deshita! Although I believe it's been busy to finish up, For now, please rest well!
Osamu Akimoto – Kochira Katsushikaku Kameari Kouenmae Hashutsujo
Kishimoto-san, for 15 years of long serialization, Otsukaresama Deshita I await the comeback of your new work.
Yuto Kubota – Sporting Salt
Kishimoto-Sensei, Otsukaresamadesu. I have been reading since my childhood. I love Rock Lee!
Yusaku Shibata – Yoakemono
Kishimoto-sensei, Otsukaresama Deshita. On your own, come back with a fresh start from training/learning. Thank you.
------
Scott Green is editor and reporter for anime and manga at geek entertainment site Ain't It Cool News. Follow him on Twitter at @aicnanime.