Scheduled to premiere in Japan on January 9, 2015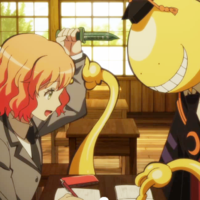 The official website for the upcoming TV anime adaptation of Yusei Matsui's Ansatsu Kyoushitsu/Assassination Classroom manga today posted the 30-second latest PV introducing its actual anime footage for the first time. The narration by the students in Class 3-E explain the three important features of the super mysterious creature who is in charge of their class, Korosensei.
The website has also announced the episode 0 of the anime, titled "Deai no Jikan" (The time of the encounter) is now screened at the Jump Special Anime Festa 2014 event, which has been held in the six cities across Japan this Saturday and Sunday. The original episode features the first encounter between government agent Tadaomi Karasuma and Korosensei. You can check the scenes from the episode here.
The TV anime Assassination Classroom will premiere on Fuji TV at 25: 20 on January 9, 2015, then on
other stations across Japan including Kansai TV, Tokai TV, and BS Fuji. Seiji Kishi (Angel Beats!, Danganronpa,
Persona 4) serves as the director for Lerche (Unbreakable Machine-Doll, Re:_Hamatora).
via: "Assassination Classroom" TV anime official Twitter
(C) Yusei Matsui/Shueisha, Anime "Ansatsu Kyoushitsu" production Committee