Comes with the still picture edition of the 1984 pamphlet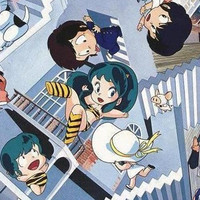 To promote the long-awaited release in Japan on January 21, 2015, Toho has posted three CMs for the upcoming Blu-ray disc of Mamoru Oshii's epoch-making anime film in 1984, Urusei Yatsura 2: Beautiful Dreamer on its official YouTube channel. It is also confirmed that the disc will contain the still picture edition of the original pamphlet sold at Japanese theaters when the film was released on February 1, 1984.
However, a disappointing news for the fans is that the audio commentary by Mamoru Oshii, Junji Nishimura (associate director), and Shigeru Chiba (the voice of Megane, the most iconic character in Oshii's Urusei Yatsura anime series), which was recorded for the DVD released in 2002, will not be included in this Blu-ray disc. Their conversation was so interesting and very helpful to enjoy the film more. So I recommend you to get the DVD as well while it is still available.
30-second CM
15-second CM
"Darling!" edition CM
Blu-ray disc jacket
The cover of the 1984 pamphlet
via: AV Watch
© Rumiko Takahashi/Shogakukan