Comedy series introducing various cases of psychosomatic medicine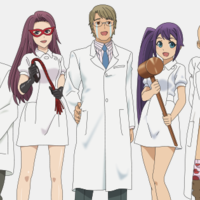 The official website for the upcoming web anime adaptation of medical themed comedy manga Manga de Wakaru Shinryonaika/Comical Psychosomatic Medicine created by Yuu Yuuki (story) and Sou (art), titled Anime de Wakaru Shinryonaika (You can learn about psychosomatic medicine with anime), today announced its main voice cast and posted first PV.
The announced voice cast:
Ryo Shinnai: Shinichiro Miki (Takumi Fujiwara in Initial D)
Asuna Kangoshi: Yurika Endoh (Aina Mikage in Z/X IGNITION, Tanako Kujirai in Magimoji Rurumo)
Iyashi Kangoshi: Yoko Hikasa (Mio Akiyama in K-ON!)
Himeru Kangoshi: Maaya Uchida (Thouars in Ore, Twintail ni Narimasu.)
Sukizou Kangoshi: Kenichi Ogata (Genma Saotome in Ranma 1/2)
1st PV
Yuuki himself runs his own mental clinic in Tokyo, and the manga has been posted in the clinic's website
since 2008. The manga with the same contents has also been serialized in Shonengahosha's Young King
since 2010 and now 11 tankobon volumes are available.
The story features various cases of psychosomatic medicine, such as clinical depression, adjustment disorder,
panic disorder, sleep disorder, dementia, bulimia nervosa, erectile dysfunction, and paedophilia. The web
anime series will start streaming in February 2015.
Anime key visual
The covers of the manga tankobon 1st and 11th volume
via: "Anime de Wakaru Shinryonaika" official Twitter
© Yuu Yuuki, Sou/Shonengahousha, Mental Anime Project (Kari)