Oversized dock (badly) emulates existing Vita for the same price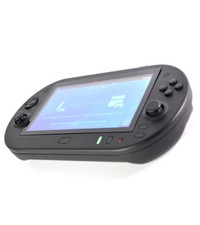 If you're one of the few that dropped cash on a PlayStation TV recently and wondered "Gee, I wish there was a way I could use my new PlayStation/Vita TV on the go" do I have great news for you. For the rest of you that are about to see the absurdity I'm about to unleash on you, continue on below, because it gets awesome.
Japanese third party accessory manufacturer GAMETECH has apparently come up with a way to use the PSTV/Vita TV on the go as you can see above in the DekaVita 7 and I'll admit I'll give them points for effort, but the overriding question that everyone with even the slightest bit of common sense is asking themselves is "Why not just buy a Vita?" Apparently GameTech genuinely believes that those that already own a Vita/Playstation TV don't want the Vita console itself, but something that is less capable for the same amount of money as the Vita.
In fact, GameTech is so sure of the demand for the DekaVita 7 that it has opened a pre-order campaign with those that pre-order getting a big break on the price from the standard price of ¥23,000 to ¥19,800, or $200 to $171 USD. Of course, should the pre-order campaign prove unsuccessful, the dock will not go into production.
The only real advantages I see with this thing is the larger 7-inch display running at 1024x600 and the larger bodyshell for people with large hands, but it doesn't mean that games will suddenly look better at the slightly higher resolution owing to the 2-inch increase in display size or that people will enjoy carrying around and oversized dock that can't play every Vita game. I guess one neat feature is the capability of using it as a PS3 controller and an external display, but those features need conversion adapters for USB and HDMI and aren't even included, so what's the point?
Would anyone reading this want the dock, or would you just buy a Vita for the same amount of money and skip the hassle of buying a PSTV and the dock altogether?
---
Humberto Saabedra is the Owner of AnimeNews.biz, Editor-in-Chief of PhoneNews.com and a part-time recording engineer. He can also be found musing on things (and Nico Robin) at @AnimeNewsdotbiz