Classic 1974-1975 Ultra series show now available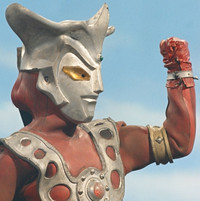 Giant monsters and colossal superheroes from Japan's incredible Ultra series continue to invade the streaming video offerings at Crunchyroll. Recently, Ultraman Max and Ultraman Mebius have appeared on the site and now, my hero, Ultraman Leo has emerged as the latest addition to the catalog!
All-Access users will be able to view the whole series today, and free users will be getting 10 episodes per week starting with 1-10 today!
The 7th entry in Tsuburaya Productions' Ultra series, Ultraman Leo ran from 1974 -1975 and represents the end of a classic era in Japanese tokusatsu ("special effects") TV shows. Sure, it's goofy, what with the rubber monsters and wobbly effects and all, but it's also action packed, imaginative, and charming as hell. As your editor in chief, I personally endorse all 51 episodes and pretty much demand that you at least watch a little bit of the first episode now.
Official synopsis
Ultraman Leo comes from Nebula L77. He comes to Earth as a second home after his native land has been destroyed by Alien Magma.
On Earth, Ultraman Leo takes the human form of Gen Otori, a gym coach at a local sports club. After witnessing the fight between Ultra Seven and Alien Magma where Seven hurt his leg and lost his power to transform into the giant fighter, Leo accepts the mission to defend the Earth on Seven's behalf. He joins MAC (Monster Attack Crew) with Seven as the captain, receives rigorous training and transforms into the gigantic Ultraman Leo when things get out of control.

Unlike the rest of Ultraman warriors, Leo's fighting style is featured in martial arts giving him far greater physical abilities than any of the other Ultra Brothers. He, along with his brother Astra, is awarded the title to become a member of the Ultra Brothers.
Ultraman Leo will be available for users in the following territories: United States, Canada, Latin America, UK, Australia, and New Zealand.


---------
Patrick Macias is editor in chief of Crunchyroll News and Otaku USA magazine. He is also the author of the Paranoia Girls webcomic.