Win at Dubai Duty Free Stakes helps launch a successful 2014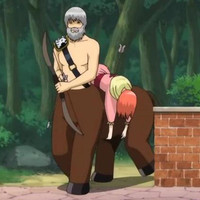 International Federation of Horseracing Authorities (IFHA) partner LONGLINES has announced their global rankings of horses for the period of 1st January 2014 - 9th November 2014. After winning the Dubai Duty Free Stakes in March kicked off a successful 2014, the top rank in the list went to Just A Way out of Japan. And, if that name sounds familiar, it's because the horse is owned by Akatsuki Yamatoya, a writer on a host of anime, including Digimon, Magical Doremi, Inu-Yasha, Soul Eater, Heroman, and Gintama, and named for a running Gintama gag.
Just a Way similarly topped the rankings back in April.
In Gintama, hero Gintoki loses his memory and finds himself with a factory job assembling junky looking toys called Just A Ways, which in turn prove to be a terrorist's secret explosive devices. The objects then show up throughout the series as an in-joke.
【「アニメ銀魂」の脚本家・大和屋暁さんが所有するジャスタウェイ(馬)が8ヵ月連続世界ランクトップに!】おめでとうジャスタウェイィィィィィ! #gintama #銀魂 http://t.co/bBo3ZryIv0 pic.twitter.com/FnTt2H2WJN

— ハビさん (@habisan) November 16, 2014