En el número de marzo de 2015 de la LaLa DX, a la venta el 10 de febrero.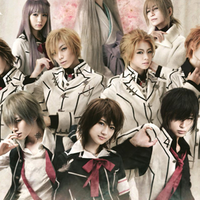 El número de enero de la revista LaLa de Hakusensha anuncia que Matsuri Hino dibujará un nuevo capítulo de su manga Vampire Knight en el número de marzo de 2015 de la LaLa DX, a la venta el 10 de febrero. Este capítulo especial contará con 40 páginas.
El número también revela más miembros del reparto caracterizados para la adaptación a obra de teatro del manga. Ai Matsumoto será Senri Shiki, Riichi Amato será Takuma Ichijo, Chiaki Kyan será Hanabusa Aido y oni será Akatsuki Kain.
Root, modelo femenina de ropa masculina, será Zero Kiryu. Yumi Wakatsuki de Nogizaka46 será Yuki Cross. Akira será Kaname Kuran. Otros miembros del reparto serán Karin Ogino como Maria Kurenai, Michie Kakimaru como Kaien Cross y Mai Watanabe como Shizuka Hio.
El manga está protagonizado por Yuki, una chica que asiste a un instituto en el que hay una "clase diurna" de estudiantes normales y una "clase nocturna" para vampiros. La chica trabaja con su padre adoptivo y director para demostrar que los vampiros pueden coexistir pacíficamente con los humanos, pero tanto el instituto como los vampiros esconden muchos secretos.
Nelke Planning y Be-Honest se encargarán de producir la obra, la cual podrá verse del 21 al 25 de enero en el teatro Hakujinkan de Tokio. Koji Tokyo será quien escriba el guión, mientras que Shinnosuke Motoyama(coreógrafo de musicales como Macross the Musicalture o The Prince of Tennis) será el director.
El manga Vampire Knight se estrenaba en la revista LaLa en el año 2004, habiendo finalizado el pasado año con un total de 19 tomos recopilatorios.
Fuente: ANN