The 7th chapter will be released on January 10, 2015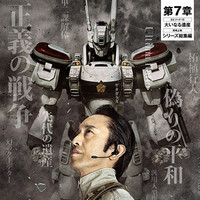 The poster visual for the upcoming 7th chapter of The Next Generation -Patlabor- live-action film series was revealed to the Japanese media yesterday. It features Keiji Gotouda (Toshio Kakei), the captain of the Division 2, with the tagline "Is there anything we should protect?" and the name of Yukihito Tsuge, the main antagonist of the 1993 anime film Patlabor 2 directed by Mamoru Oshii.
Though they were told in different media, anime and live-action, the current live-action series is a direct sequel to the past Patlabor films directed by Oshii. The 7th chapter contains the 12th episode "Ooinaru Isan" (Great Expectations) with the highlights of the previous episodes. It is, of course, directed by Mamoru Oshii himself, as an introduction to the upcoming feature film to be released in spring 2015. If the episode has Tsuge, we may expect more characters from the original anime series?
The final 7th chapter is scheduled to be screened at selected Japanese theaters for limited time of two
weeks from January 10, 2015.
A scene from the feature film in 2015
via: Eiga. com
© 2014 "THE NEXT GENERATION -PATLABOR-" Production Committee