In commemoration of the 5th anniversary of the anime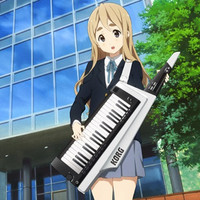 Japanese electronic musical instrument company Korg has announced its collaboration project with popular band-themed anime series K-ON!. To commemorate the 5th anniversary of the anime, they will release "RK-100S K-ON! Special," a 300-limited electronic keyboard inspired by the keyboardist of Houkago Tea Time, Tsumugi Kotobuki, who is often called Mugi. She played the company's Triton Extreme 76-key keyboard in the show, so this is a very natural collaboration.
RK-100S is a succession model of RK-100 which Tsumugi played in the ED credits of the TV anime 1st season, and pre-installs 20 program sounds including the OP song for the TV anime 1st season, "Cagayake!GIRLS," and Tsumugi's character song "Yasei no Jounetsu." It will be released in late December at the price of 65,000 yen (about US$550).
Tsumugi's illustration on the back panel
Soft case for the keyboard with the K-ON! logo
© Kakifly, Houbunsha/Sakuragaoka High Light Music Club