Both series will run in Kodansha manga magazines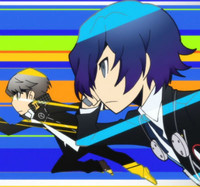 Persona Q: Shadow of the Labyrinth is finally upon us as of next Tuesday, and it turns out that there's more to come! As announced in the latest issue of Kodansha's Monthly Shonen Sirius magazine, the 3DS dungeon crawler has inspired a host of new manga series that will launch in Japan.
You'll be able to find them in Kodansha's Bessatsu Shonen Magazine and Monthly Shonen Sirius as of this winter, and you can bet it'll be packed with familiar Persona goodness. And perhaps if the manga bodes well we could see a new anime series in the future too! Persona 4 Golden was an interesting show, after all — faithful and fantastic.
In the meantime, check out the Crunchyroll review of Persona Q: Shadow of the Labyrinth before the game drops on Tuesday.
[via Anime News Network]
-------
Fueled by horror, rainbow-sugar-pixel-rushes, and video games, Brittany is a freelancer who thrives on surrealism and ultraviolence. Follow her on Twitter @MolotovCupcake and check out her portfolio for more.