"Watching Naruto from his father's point of view"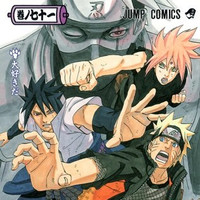 The premiere screening of the upcoming 10th Naruto film The Last -Naruto The Movie- was held at Iino Hall in Tokyo yesterday on November 24, with the five main voice cast: Junko Takeuchi (Naruto), Chie Nakamura (Sakura), Satoshi Hino (Sai), Kazuhiko Inoue (Kakashi), Jun Fukuyama (Tonero Otsustsuki), the director of the film Tsuneo Kobayashi, and the original manga creator Masashi Kishimoto.
It was the first public appearance for Kishimoto after he finished his weekly serialization of Naruto on Shueisha's Shonen Jump. He jokingly said, "It feels like being released, because I have no more deadlines. So I was able to come here with plenty of time," then expressed his deep appreciation to the fans, "Thank you very much for keeping on looking at how Naruto has grown for such a long time of 15 years."
Takeuchi who has voiced Naruto since 2002 revealed that she was told beforehand by Kishimoto that
the character's last growth would be love. Kishimoto explained, "Naruto has not yet been able to fully
understand about love relationship, so I thought there were so many things I could do in a feature film.
After watching the film, now I have a mixed feeling for him, relieved and sad, it's like Naruto is becoming
independent from me. I have been watching him from his father's point of view."
In the end of the event, Sukima Switch appeared on the stage to perform the piano version of the theme
song for the film, "Hoshi no Utsuwa." The highly anticipated film opens in Japan on December 6.
[映画]「NARUTO」原作者、漫画完結に「解放された気分!」 http://t.co/b4WpPKI15m pic.twitter.com/ngFQtfz6mR

— シネマトゥデイ (@cinematoday) November 24, 2014
Latest flyer
Trailer
Source: Comic Natalie, Cinema Today
© Masashi Kishimoto, Scott/Shueisha, TV Tokyo, Pierrot
© Movie Naruto Production Committee 2014