Toei Animation's news series is slated for next spring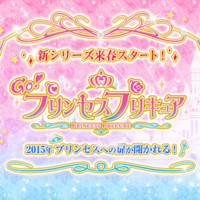 After filing its trademark with the Japan Patent Office last month, Toei Animation today finally launched the official site for Go! Princess PreCure, the 12th installment of the long-running PreCure TV anime series with its title logo. The tagline says, "In 2015, the door to the princess will be opened!" While the site states that it will premiere in next spring, if it follows the usual pattern, the first episode of Go! Princess PreCure will be aired in the first week of February 2015.
It is not difficult to imagine that the reason why Toei Animation has chosen "princess" for the main motif of the next PreCure is probably the historic success of Disney Animation's Frozen (titled Anna and the Snow Queen in Japan). Considering the commercial failure of the current series HappinessCharge PreCure, it is understandable if they try to use the children's current favorite motif.
Source: "Go! Princess PreCure" offiicial site
© ABC, Toei Animation