On sale in April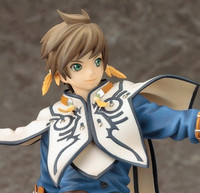 Figure and model company Kotobukiya will be releasing a 1/8th scale figure of main character Sorey from upcoming RPG "Tales of Zestiria", due for Japanese PS3 release on January 22nd, 2015.
The game is part of the Bandai Namco's Tales series, currently celebrating its 20th anniversary. The figure, a collaboration with toy and model company Alter, depicts youthful main character Sorey standing heroically, cloak fluttering in the wind, and reproduces every aspect of the unique character in careful detail. Alter is currently accepting preorders for a figure of female main character Alisha, perfect for displaying alongside the Sorey figure.
The figure retails for 10,000 yen, plus tax. It will be released in April 2015.
Links:
Sorey Figure
http://www.kotobukiya.co.jp/product/product-0000001509/
Tales of Zestiria
http://toz.tales-ch.jp/
Source: YATTAR NEWS