Selected from the 60 entries in the animation feature division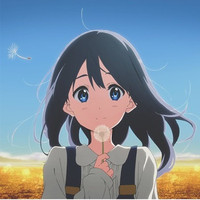 The winners of the 18th Japan Media Arts Festival Awards, which is organized by Japanese government's The Agency for Cultural Affairs, have been announced. The good news is that Kyoto Animation's feature film Tamako Love Story directed by Naoko Yamada wins New Face Award in the animation division. The film was released on April 26, 2014, as a sequel to the 12-episode TV series Tamako Market in January-March 2013, also directed by Yamada.
There were 60 entries in the animated feature film/animated series category in the animation division. This year's Jury members in the division were: Masashi Koide (animation researcher and professor, Tokyo Zokei University), Koji Morimoto (animation director: MEMORIES - EPISODE 1, The Animatrix-Beyond), Fumio Ohi (animation artist), Ryosuke Takahashi (animation director: Armored Trooper VOTOMS), and Toshikatsu Wada (animation artist). The New Face Award winner will receive a certificate,
trophy, and 200,000 yen (about US$1,680) prize money.
The total number of entries in all divisions (art, entertainment, manga, animation) from 71 countries and
regions were 3,853. The award ceremony will be held at The National Art Center in Tokyo on February 3, 2015.
---
Animation Division Winners
Grand Prize:
The Wound (Anna Budanova)
Excellence Award:
Crayon Shin-chan: Serious Battle! Robot Dad Strikes Back! (Wataru Takahashi)
Giovanni's Island (Mizuho Nishikubo)
New Face Award
Tamako Love Story (Naoko Yamada)
Manga Division Winners
Grand Prize:
Goshiki no Fune (Youko Kondo with original story by Yasumi Tsuhara)
Excellence Award:
Aoi Honou (Kazuhiko Shimamoto)
Harukaze no Sunegurachika (Hiroaki Samura)
Hitsuji no Ki (Mikio Igarashi with original story by Tatsuhiko Yamagami)
New Face Award:
Ai o Kurae!! (Renaissance Yoshida)
---
"Tamako Love Story" trailer
Animation Division Grand Prize Winner "The Wound"
Source: The 18th Japan Media Arts Festival Awards official website