Better get 'em while the getting is good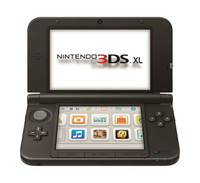 Nintendo Japan has made the announcement via its official website that every model and color of the original 3DS XL (3DS LL in Japan) is "soon to be discontinued." Weirdly enough, a range of colors of the original 3DS will continue to be produced.
With the New Nintendo 3DS and New Nintendo 3DS LL out in the wild in Japan as of October 11, it makes sense that production should slow, especially given the fact that the newer models will be required to use Amiibo figures in-game.
It's unclear whether Nintendo of America will be following suit, but if that does end up being the case, you'll want to make sure you snap some up before they start getting rarer!
[via Anime News Network]
-------
Fueled by horror, rainbow-sugar-pixel-rushes, and video games, Brittany is a freelancer who thrives on surrealism and ultraviolence. Follow her on Twitter @MolotovCupcake and check out her portfolio for more.