Mudkip's second evolutionary stage looks confused and blank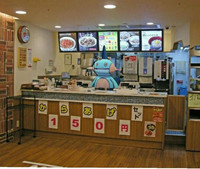 There are all sorts of weird memes out there, but the newest involves Marshstomp, or the second evolution of water starter Mudkip in Pokémon Omega Ruby and Alpha Sapphire. The character model for the evolution looks a bit, well, blank. As in there's not a lot going on up there.
Japanese players have picked up on this and Marshstomp's bizarre looks back in Pokémon X and Y and have taken to including its picture Photoshopped into several situations. Here are a few of the highlights below. Be sure to link to your own favorites or ones you've created as well!
[via Kotaku]
-------
Fueled by horror, rainbow-sugar-pixel-rushes, and video games, Brittany is a freelancer who thrives on surrealism and ultraviolence. Follow her on Twitter @MolotovCupcake and check out her portfolio for more.