"Attack on Titan" is a very close second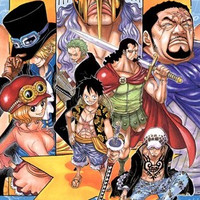 Oricon, a data compiling company specializing in providing data for the Japanese music/book industry, today announced the 2014 best-selling books annual rankings, which was compiled between November 18, 2013 and November 16, 2014. As expected, Eiichiro Oda's One Piece tops its manga rankings for six years in a row since 2009, selling 11,885,957 copies in total during the period.
But the gap with the second best-selling title, Hajime Isayama's Attack on Titan is much smaller than last year. After One Piece sold 2,217,798 more copies than Attack on Titan did in 2013, this year's gap between the two is only 157,989. Both series released same three new volumes during the period, and One Piece's 73rd, 74th, and 75th volumes also dominate the top 3 positions in the per volume ranking. Will the upcoming two live-action films push the sales of Attack On Titan more and finally send it to the top of the rankings? Check the top 30 manga series/volume below.
2014 Manga Sales Ranking Top 30 (series)
1 (1). One Piece -11,885,957 (18,151,599 in 2013)
2 (2). Attack on Titan -11,728,368 (15,933,801)
3 (22). Haikyu!! - 8,283,709 (2,056,241)
4 (27). Tokyo Ghoul - 6,946, 203 (1,666,348)
5 (3). Kuroko's Basketball - 6,729,349 (8,761,081)
6 (5). Naruto - 5,505,179 (5,553,933)
7 (23). Ace of Diamond - 4,681,031 (2,010,045)
8 (4). Magi - 4,657,971 (7,151,001)
9 (-). The Seven Deadly Sins - 4,633,246
10 (7). Assassination Classroom - 4,622,108 (4,595,820)
11 (-). Hozuki no Reitetsu - 4,385,701
12 (10). Terraformars - 4,295,257 (3,602,630)
13 (21). Ao-Haru-Ride - 4,166,875 (2,106,452)
14 (-). Yowamushi Pedal - 4,098,510
15 (6). Silver Spoon - 3,957,991 (4,858,699)
16 (30). Nisekoi - 3,816,372 (1,542,417)
17 (9). Fairy Tail - 3,275,885 (3,790.151)
18 (15). Bleach - 2,986,968 (2,752,588)
19 (-). Shokugeki no Soma - 2,644,122
20 (-). Yo-Kai Watch - 2,588,791
21 (14). Kingdom - 2,516,278 (2,805,945)
22 (-). Kyo wa Kaisha wo Yasumimasu - 2,472,101
23 (11). Kimi ni Todoke - 2,397,887 (3,428,352)
24 (12). Gintama - 2,394,263 (2,864,734)
25 (24). Detective Conan - 2,380 774 (1,966,206)
26 (28). Black Butler - 2,289,738 (1,562,863)
27 (-). Noragami - 2,231, 805
28 (-). One Punch-Man - 2,173,339
29 (-). Gekkan Shouko Nozaki-kun - 1,967,675
30 (20). Chihayafuru - 1,937,059
-The series dropped from last year's top 30:
Hunter x Hunter (8)
Toriko (13)
JoJo's Bizarre Adventure (16)
Space Brothers (17)
Saint Young Men (18)
Blue Exorcist (19)
SKET DANCE (25)
JoJo's Bizarre Adventure: bunko (pocket-size) version (26)
To Love-Ru Darkness (29)
---
2014 Manga Sales Ranking Top 30 (volume)
1. One Piece 73 (3,010,801)
2. One Piece 74 (2,834,558)
3. One Piece 75 (2,698,071)
4. Attack on Titan 13 (1,921,457)
5. Attack on Titan 12 (1,895,305)
6. Attack on Titan 14 (1,773,871)
7. Naruto 67 (1,106,651)
8. Naruto 68 (1,098,121)
9. Kimi ni Todoke 21 (1,031,380)
10. Naruto 69 (1,007,954)
11. Silver Spoon 11 (953,543)
12. Naruto 70 (934, 233)
13. Silver Spoon 10 (863,042)
14. Sakamoto Desuga? 2 (846,274)
15. Silver Spoon 12 (840,582)
16. Haikyu!! 10 (832,634)
17. Kimi ni Todoke 22 (828, 320)
18. Kuroko's Basketball 26 (817,937)
19. Haikyu!! 11 (797,807)
20. Kuroko's Basketball 25 (791,532)
21. Haikyu!! 9 (788,791)
22. Ao-Haru-Ride 9 (783,790)
23. Haikyu!! 12 (783,391)
24. Ao-Haru-Ride 10 (778,734)
25. Kuroko's Basketball 27 (774,451)
26. Assassination Classroom 7 (772,887)
27. Terraformars 7 (762,085)
28. Naruto 71 (761,470)
29. Assassination Clessroom 8 (756,005)
30. Assassination Classroom 9 (741,338)
Source: Oricon
One Piece image © Eiichro Oda/Shueisha