As if everyone in the world weren't already buying these games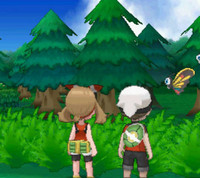 With the recent release of Pokemon remakes Omega Ruby and Alpha Sapphire, The Pokemon Company decided to kick things into overdrive with its flagship series.
Shibuya Crossing, the busiest intersection in all of Japan, (and one of the busiest in the entire world) was home to screens featuring artwork from the games themselves as a staggeringly large promotion.
Check out the video below to see the imagery on the screens. Kind of makes you wish you were there, doesn't it?
[via Anime News Network]
-------
Fueled by horror, rainbow-sugar-pixel-rushes, and video games, Brittany is a freelancer who thrives on surrealism and ultraviolence. Follow her on Twitter @MolotovCupcake and check out her portfolio for more.