"Attack on Titan" 12th volume with an anime DVD exceeds "One Piece"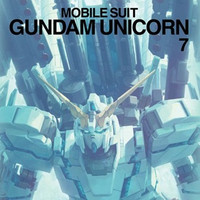 Online retailer Amazon Japan has posted its top-selling lists for each category for the 12 months from December 1, 2013, to November 16, 2014. The top-selling anime disc of the year is the first press limited edition Blu-ray of the last 7th volume of Sunrise's OVA series Mobile Suit Gundam Unicorn which was released on June 6 at the price of 12,800 yen (about US$107). The disc also ranks 3rd in the overall DVD/Blu-ray ranking only behind the two live DVDs of Johnny's Entertainment's idol group Arashi. So it means the 7th Gundam Unicorn is also the top-selling Japanese film of the year at the store.
The top-selling manga volume is the limited edition of the 12th volume of Hajime Isayama's Attack On Titan, which was released on December 9, 2013, with an original anime episode DVD. No doubt the additional price for the anime DVD is the main reason why it was able to exceed the sales of the 73rd
volume of Eiichiro Oda's One Piece in 2nd, which sold more volumes in total according to Oricon. Last
year's champion, Kiyohiko Azuma's Yotsuba&! didn't release any new volumes this year. Check the top
10 anime/manga rankings below. How popular your favorite anime/manga titles are in Japan in 2014?
Anime Blu-ray/DVD Top 10
1. "Mobile Suit Gundam Unicorn" vol. 7 (Blu-ray) limited edition
© Sotsu/Sunrise
2. "Puella Magi Madoka Magica The Movie: Rebellion" (Blu-ray) limited edition
3. "Love Live! 2nd Season" vol.1 (Blu-ray) special limited edition
4. "The Garden of Sinners: Future Gospel" (Blu-ray) perfect limited edition
5. "The Idolmaster Movie: Beyond the Brilliant Future!" (Blu-ray) perfect limited edition
6. "Girls Und Panzer - Kore ga Honto no Anzio Sen Desu!" (Blu-ray)
7. "Kabukimonogatari" vol.1 (Blu-ray) perfect limited edition
8. "Attack on Titan" vol.6 (Blu-ray) limited edition
9. "Kabukimonogatari" vol.2 (Blu-ray) perfect limited edition
10. "Otorimonogatari" vol.1 (Blu-ray) perfect limited edition
---
Manga Top 10
1. "Attack on Titan" vol.12 limited edition with an anime DVD (Hajime Isayama)
© Hajime Isayama/Kodansha
2. "One Piece" vol.73 (Eiichiro Oda)
3. "Silver Spoon" vol. 11 (Hiromu Arakawa)
4. "Saint Young Men"vol. 10 (Hikaru Nakamura)
5. "To Love-ru Darkness" vol. 9 preorder-limited edition with an anime DVD (Saki Hasemi/Kentaro Yabuki)
6. "Drifters" vol. 4 (Kouta Hirano)
7. "Hyaksho Kizoku" vol. 3 (Hiromu Arakawa)
8. "Otoyome Gatari" vol.6 (Kaoru Mori)
9. "Kinou Nani Tabeta?" vol.9 (Fumi Yoshinaga)
10. "Dragon Quest X Yon-koma Manga Gekijyou" (Yuuki Abe)
Source: Amazon Japan via press release