"Locodol" special streams tonight 7pm PST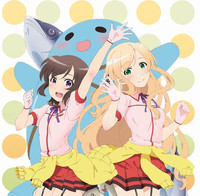 Crunchyroll's catalog of anime and J-drama continues to swell in size as the Locodol OVA special is set to begin streaming tonight, while Last Cinderella and Always the Two of Us join the site as well.
The special OVA episode for Locodol goes live tonight at 7pm PST and will be available worldwide excluding Asia.
Story
By her uncle's request, Nanako is an ordinary high school girl who teams up with her upperclassman Yukari to become their town's local idols. The two get paid by the town to do interviews at malls, appear on local TV broad casts and hold small live events on department store rooftops. Together, the two form the "locodol" group Nagarekawa Girls.
Meanwhile, J-Drama Last Cinderella is launching today at 3pm PST for Premium members, with 3-4 episodes released each week for free members.
Story
Tohyama Sakura is the 39-year-old owner of HAPPY-GO-LUCKY beauty shop. She wakes up one morning to find that she'd grown a beard. She soon learns that this is the so-called manification phenomenon, where women become masculine as a result of extreme stress.

Last Cinderella will be available to Crunchyroll members in the following territories: USA, Canada, UK, Ireland, South Africa, Netherlands, Central and South America including the Caribbean, Australia, New Zealand, Scandinavia, Germany, Austria, Liechtenstein, Luxembourg, Switzerland, Belgium, Italy, Poland, Denmark, Hungary, Czech Republic, Romania, France and DOM/TOM, and Andorra.
Finally, Always the Two of Us will be launching today at 5pm PST for Premium members, and 2-4 will be released each week for free members. Territories are identical to Last Cinderella.
Story
26-year-old Tanimachi Mizuho (Matsu Takako) moves to Tokyo hoping to become a successful author, but finds that Tokyo isn't so welcoming. There she meets a popular variety show writer, Morinaga Kenta (Sakaguchi Kenji), who happens to have been a childhood friend. But whether or not they fall in love is uncertain.
------
Patrick Macias is editor in chief of Crunchyroll News and Otaku USA magazine. He is also the author of the Paranoia Girls webcomic.