Hayao Miyazaki's "Spirited Away" is the most popular DVD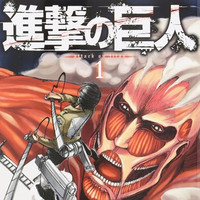 Book Off, the largest chain of used bookstores in Japan, yesterday announced its annual ranking of the top 15 book, manga, CD, DVD and game for 2014. Hajime Isayama's Attack on Titan, which is the second top selling manga of the year with 11,728,368 copies according to Oricon, is also the top-selling manga title in the used book market.
For example, Book Off's online store is selling the 1st volume of Attack on Titan at the price of 108 yen, 76 percent cheaper than its original price, 463 yen. While it helps the people who doesn't have enough money to buy a new copy, it should be known that original creators and publishers receive no money from the used book market, no matter how much profit it makes.
Book Off's Manga Top 15 of 2014
1. Attack on Titan (Hajime Isayama/Kodansha)
2. Thermae Romae (Eri Yamazaki/Enterbrain)
3. One Piece (Eiichiro Oda/Shueisha)
4. Saint Young Men (Hikaru Nakamura/Kodansha)
5. Sakamoto Desuga? (Nami Sano/Enterbrain)
6. Shiki no Zenjitsu (Hozumi/Shogakukan)
7. Fullmetal Alchemist (Hiromu Arakawa/Square Enix)
8. Silver Spoon (Hiromu Arakawa/Shogakukan)
9. Hunter x Hunter (Yoshihiro Togashi/Shueisha)
10. Nodame Cantabile (Tomoko Ninomiya/Kodansha)
11. Kimi ni Todoke (Karuho Shiina/Shueisha)
12. Naruto (Masashi Kishimoto/Shueisha)
13. Kyo wa Kaisha wo Yasumimasu (Mari Fujimura/Shueisha)
14. Black Butler (Yana Toboso/Square Enix)
15. Assassination Classroom (Yusei Matsui/Shueisha)
Source: press release
Attack on Titan image © Hajime Isayama/Kodansha