More girls from "Sailor Moon" will follow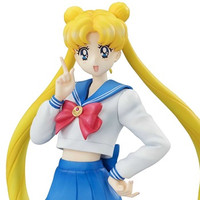 The retailers in Japan including Amazon Japan today started accepting pre-orders for the latest character figure from Megahouse's Sekai Seifuku Sakusen (World Uniform Operation) line, 1/10 scale Usagi Tsukino from the Pretty Soldier Sailor Moon series, in her uniform of Juuban Municipal Junior High School. The Sekai Seifuku Sakusen line focuses on popular anime characters in their school uniforms.
The reference price for the Usagi figure is 5,000 yen (excluding tax/about US$42), and its scheduled delivery day is in the middle of March 2015. Megahouse is also planning to release two more character figures from the Sailor Moon series, Ami Mizuno (Sailor Mercury) and Rei Hino (Sailor Mars). You will be able to get an option to buy a figure of Naru Osaka, Usagi's childhood friend, by purchasing two of the three figures. The details of the upcoming campaign will be announced soon.
Source: Megahouse
© Naoko Takeuchi, PNP, Toei Animation