As part of the "Naruto's New Era Opening Project"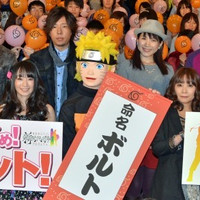 The 10th Naruto film The Last -Naruto The Movie- is finally released in Japan today on December 6. In the end of the film, there is an announcement that a new film featuring Bolt Uzumaki as the protagonist is in the works for an August 2015 release. Bolt is the oldest son of Naruto Uzumaki and Hinata Hyuga, who first appeared in the 700th episode of Masashi Kishimoto's original manga. It was already confirmed that Kishimoto is working on a new short-term serialization based on the Naruto series for spring 2015, but this is the first time that the production of the new anime feature is revealed.
"I have started a difficult thing.... Even after finished the serialization, I got no time to rest." Kishimoto, who also serves as an executive producer of the film, said, smiling grimly. "I am currently thinking about a story between Bolt and Sasuke's daughter Salad. Sasuke and Sakura will be in it, too," and added, "I am also thinking about Bolt's lethal technique." Junko Takeuchi, the voice actress of Naruto also said,"
I have no idea what it will be like. But I am really looking forward to it."
『NARUTO』息子主演で来夏に新作 #芸能 #ニュース http://t.co/yFKPJRMP5v pic.twitter.com/5Q2Wpz2u31

— ORICON STYLE (@oricon) December 6, 2014
Source: Cinema Today, Oricon Style