Acclaimed animator Tadayoshi Yamamuro makes his directorial debut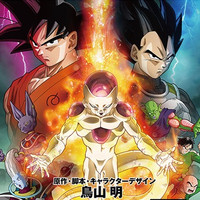 Toei Animation's official website for the highly anticipated upcoming film Dragon Ball Z: Fukkatsu no F (Resurrection of F) today posted the second teaser introducing actual anime footage. The original manga creator Akira Toriyama pens the screenplay for the 19th film for the first time, as well as character design.
Toei Animation's Tadayoshi Yamamuro, who is known as one of the representative animators for the Dragon Ball anime series since early 1990s and served as the chief animation director for the 18th film Dragon Ball Z: Battle of Gods last year, finally makes his directorial debut. The main voice cast including Masako Nozawa as Son Goku and Ryusei Nakao as Freeza will reprise their roles.
Dragon Ball Z: Fukkatsu no F is scheduled to be released in 2D and 3D (for the first time in the anime
series) in Japan on April 18, 2015. The advance ticket with Goku/Freeza figure straps based on the designs
by Toriyama goes on sale at Japanese theaters today on December 6.
2nd teaser
1st teaser
Poster visual
Straps for the advance ticket
Source: "Dragon Ball Z: Fukkatsu no F" official site via Comic Natalie
© Bird Studio, Shueisha/2015 "Dragon Ball Z" Production Committe