Produced by XEBEC (Space Battleship Yamato 2199, Argevollen)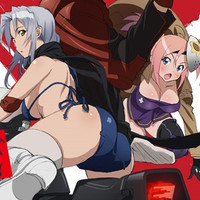 The official site for the upcoming TV anime adaptation of Shouji Sato's gun action manga Triage X has been updated with its first key visual featuring the three main characters: Arashi Mikami, Yui Kondo, and Oriha Nashida. The visual was first revealed at the "Fantasia Bunko 2014 Dai Kanshasai" event, which was held at Bellesalle Akihabara in Tokyo yesterday on December 6. The TV anime adaptation is scheduled to premiere in April 2015.
Shouji Sato is best known for his illustration works for the Highschool of the Dead manga series scripted by Daisuke Sato. While it has been in hiatus, Triage X has been serialized in Kadokawa Fujimi Shobou's Monthly Dragon Age magazine since its May 2009 issue and so far nine tankobon volumes are available in Japan.
1st key visual: Tagline says, "Label color is marking to death."
(from left) Kenji Akabane (Arashi Mikami), Yui Kondo (Mikoto Kiba), Takao Kato (director)
本日富士見ファンタジア文庫感謝祭のトリアージXイベントにお越しいただいた皆様!寒い中お集まりいただき本当にありがとうございました! ゲストの赤羽根さん、近藤さん、加戸監督をイベント終了後パシャリ☆ 続報をお楽しみに!#triageX pic.twitter.com/iagCfGNxnt

— アニメ「トリアージX」公式 (@triagex) December 6, 2014
Preveious main visual
Main staff:
Director: Akio Takami (Upotte!! character designer/animation director)
Takao Kato (Rockman.EXE, To Love-Ru)
Series composition: Katsuhiko Takayama ([email protected], Aldnoah.Zero)
Character design: Akito Takami
Anime Production: XEBEC (Space Battleship Yamato 2199, Argevollen)
Main voice cast:
Arashi Mikami: Kenji Akabane (Producer in The [email protected])
Mikoto Kiba: Yui Kondo (Furano Yukihira in Noucome)
Oriha Nashida: Amina Sato (ex-AKB48 member, Yuuka Ichijou in AKB0048)
via: "Triage X" anime official Twitter
© 2015 Shouji Sato/Kadokawa Fujimi Shobou/"Triage X" Production Committee