First time in 12 years since the 2004 film "Final Wars"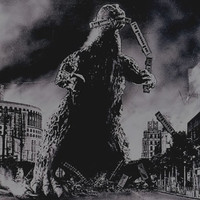 In commemoration of the giant monster's 60th anniversary, Japanese film production/distribution company Toho's Godzilla Senryaku Kaigi (Godzilla Strategy Meeting) today announced the upcoming two projects, Toho's own new Godzilla film for 2016, and a life-size replica head of Godzilla to be set up in Shinjuku, Tokyo.
The last Japanese-made Godzilla film was Godzilla: Final Wars directed by Ryuhei Kitamura (Versus, Lupin III) in 2004, which was a terrible box office bomb earning only 1.2 billion yen for its 2 billion budget. The production for the new Japanese Godzilla film is expected to begin in the summer of 2015, Toho is now considering the staff and script for it. According to Toho's Taichi Ueda, they have not decided yet whether they will use traditional kigurumi suits or modern CGI technique for the new Godizlla.
The 12m replica head will be set on the terrace on the rooftop of the Shinjuku Toho Building, which is
scheduled to be constructed at the site of the old Shinjuku Koma Theater in Tokyo. Its height from the
ground will be 50m, same with that of the original Godzilla in the Show era (later versions were much
bigger). It will be shown to the public in April 2015.
Images for the Godilla replica head in Shinjuku
Via: Asahi Shimbun, Eiga.com
images (C)TOHO CO.,LTD.