His first film in three years since "Wolf Children" in 2012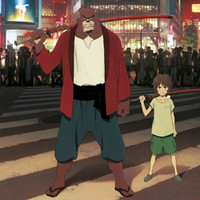 The official website for acclaimed director Mamoru Hosoda's new anime feature Bakemono no Ko/The Boy and The Beast today posted a 30-second teaser. The highly anticipated film is slated for a release on July 11, 2015.
The film, based on Hosoda's own original story and screenplay, is set in human world Shibuya and bakemono (beasts) world called Jutengai. One day a human boy strays into Jutengai and encounters a bear-like swordsman Kumatetsu. He becomes Kumatetsu's apprentice and is given a name Kyuta. The film follows Kyuta's training and adventures with Kumatetsu.
Teaser
Poster visual
Source: "Bakemono no Ko" official website