The tagline on the poster says, "New Action Adventure."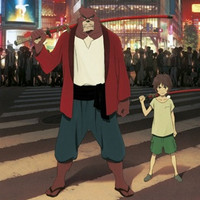 It is announced at the press conference at the headquarters of Toho today on December 11 that acclaimed director Mamoru Hosoda's new anime feature Bakemono no Ko/The Boy and The Beast is set for a release on July 11, 2015. This is his first film in three years since his biggest box office success Wolf Children in 2012.
The film, based on Hosoda's own original story and screenplay, is set in human world Shibuya and bakemono (beasts) world called Jutengai. One day a human boy strays into Jutengai and encounters a bear-like swordsman Kumatetsu. He becomes Kumatetsu's apprentice and is given a name Kyuta. The film follows Kyuta's training and adventures with Kumatetsu.
The project launched in September 2012, soon after Wolf Children was released. After the 13 months
preparation including plot development, Hosoda spent four months from October 2013 to write the screenplay
for the film. The character design works was also started simultaneously from December2013. Hosoda, who
has worked on the storyboard since March 2014, finally tweeted "Storyboard is done." on December 4.
Drawing works already started in the past May, and is scheduled to be finished in May 2015, just before the
release of the film.
Takaaki Yamashita and Tatsuzo Nishida, the two animators who have supported Hosoda's films, serve as
the animation directors. The film has three art directors: Takashi Ohmori, Yohei Takamatsu, and Yoichi
Nishikawa. And Masakatsu Takagi, the soundtrack composer for Wolf Children, again works with Hosoda.
The cast for the characters have not been decided yet.
French film studio Gaumont is managing international distribution except Asia.
Poster visual
via: Eiga.com, Cinema Today