Idina Menzel's original English version ranks 5th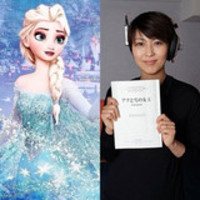 Billboard Japan today announced its yearly rankings of 2014 for 11 categories. Following the previously reported karaoke ranking compiled by JOYSOUND, the most popular song in the "Hot Animation" category is "Ari no Mamade" sung by 37-year-old Takako Matsu, which is the Japanese version of "Let It Go," a song from Disney Animation's 2013 feature film Frozen. Since Matsu's version didn't get a single CD release in Japan, most of the points to push it to the top came from digital platforms. May J's ending version of the song also ranks 3rd, while Idina Menzel's original English version ranks 5th. Check this year's top 20 songs below.
Billboard Japan "Hot Animation" 2014 Top 20
1 . "Ari no Mamade/Let It Go"
(Takako Matsu/Frozen)
2. "Himawari no Yakusoku"
(Motohiro Hata/Stand by Me Doraemon)
3 . "RPG"
(SEKAI NO OWARI/Crayon Shin-chan: Very Tasty! B-class Gourmet Survival!!)
4 "Ari no Mamade/Let It Go: ending version"
(May J/Frozen)
5 . "Let It Go: original version"
(Idina Menzel/Frozen)
6. "Geragerapo no Uta"
(King Creamsoda/Yo-Kai Watch 1st OP)
7. "Hikari no Signal"
(Kis-My-Ft2/Doraemon: New Nobita's Great Demon—Peko and the Exploration Party of Five)
8. "Imagination"
(SPYAIR/Haikyu!! 1st OP)
9. "Umarete Hajimete/For The First Time in Forever"
(Sayaka Kanda, Takako Matsu/Frozen)
10. "Rising Hope" (LiSA/The Irregular at Magic High School OP)
11."Hyouri Ittai" (Yuzu/Hunter × Hunter: The Last Mission, TV anime's 5th ED)
12. "Netsujou no Spectrum" (Ikimonogakari/The Seven Deadly Sins OP)
13. "Ah Yeah!!" (Sukima Switch/Haikyu!! 2nd OP)
14. "IGNITE" (Eir Aoi/Sword Art Online II 1st OP)
15. "unravel" (TK from Ling Tosite Sigure/Tokyo Ghoul OP)
16. "Sore wa Bokutachi no Kiseki" (μ's/Love Live! 2nd season OP)
17. "MOON PRIDE" (Momoiro Clover Z/Sailor Moon Crystal)
18. "Family Party" (Kyary Pamyu Pamyu/Crayon Shin-chan: Serious Battle! Robot Dad Strikes Back)
19. "Kindan no Resistance" (Nana Mizuki/Cross Ange: Rondo of Angels and Dragons OP)
20. "Daze featuring Maria from Garnidelia" (Jin/Mekakucity Actors OP)
Source: Billboard Japan