Satelight's sci-fi battle action girl series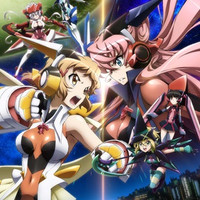 It was just one year ago when the third season of the Senki Zessho Symphogear TV anime was announced at the "Symphogear Live 2013" event held at Makuhari Messe on December 14, 2013. The TV anime's official Twitter account reported its current status today.
"It has been just a year since 'Symphogear Live' today. It means, it has also been a year since the announcement of the TV anime's third season. Sorry for keeping you waiting. Though all we can say now is we have been working on the production diligently, please look forward to updates!"
今日でシンフォギアライブ2013からちょうど一年! という事は、TVアニメ第3期制作決定を発表してから1年! お待たせしてすみません。。まだ鋭意制作中としか言えませんが、続報をお楽しみに!! #symphogear

— 戦姫絶唱シンフォギアG (@SYMPHOGEAR) December 14, 2014
The TV anime first season was aired in Japan for 13 episodes between January 6, 2012 and March 30,
2012. Then the second season titled Senki Zessho Symphogear G followed with another 13 episodes between
July 4, 2013 and September 26, 2013. The on-air schedule for the as-yet-titled third season has not been
officially confirmed yet, while many have expected it will be at some point in next year.
1st season key visual
2nd season key visual
Source: "Senki Zessho Symphogear" TV anime official Twitter
©Project Symphogear
©Project Symphogear G