Confirmation of film project follows previous announcement of anime project last month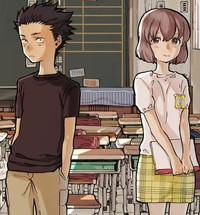 The wraparound sleeve included with the recently released seventh and final volume of the Koe no Katachi - A Silent Voice manga has confirmed that an animated feature film will be produced in the future, following the previous confirmation of an anime project last month as the manga ended serialization. More details on the film will be confirmed in future issues of Kodansha's Weekly Shonen magazine. The manga was also most recently featured in the Kono Manga ga Sugoi! manga guidebook released last week in Japan as a top title for male readers in 2015.
If you haven't read A Silent Voice yet (it's amazing, go read it), here's the synopsis:



I wish we had never met. I wish we could meet once again. A boy who can hear, Shoya Ishida, and a transfer student who can't, Shoko Nishimiya. One fateful day, the two meet, and Shoya leads the class in bullying Shoko. But before long, the class shifts its target from Shoko to Shoya. Years later, Shoya feels strongly that he must see Shoko once again.
With the confirmation of an animated feature film. who's excited?
via ANN
---
Humberto Saabedra is the Owner of AnimeNews.biz, Editor-in-Chief of PhoneNews.com and a part-time recording engineer. He can also be found musing on things (and Nico Robin) at @AnimeNewsdotbiz