"Trinity Seven" and "Chihayafuru" win the manga rankings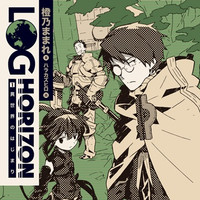 Book Walker, one of the largest digital book stores for Android, iOS, and PCs, owned by Kadokawa, today announced its sales ranking of 2014 for 10 categories. They are based on the sales figures between December 1, 2013, and November 30, 2014, from its 151,000 titles.
The top-selling digital book of year 2014 is Mamare Touno's fantasy adventure series Log Horizon, largely thanks to the fact its digital editions are available exclusively at Book Walker and the two TV anime adaptations aired during the period. The second popular series Invaders of the Rokujyouma!? by Takehaya has also gotten strong support from the TV anime started in July. Check the rankings for the overall sales, boys manga, and girls manga below.
The overall sales Top 10 (including all genres)
1. Log Horizon (Mamare Touno/Enterbrain)
2. Invaders of the Rokujyouma!? (Takehaya/Hobby Japan)
3. My Teen Romantic Comedy SNAFU (Wataru Watari/Shogakukan)
4. The Devil Is a Part-Timer! (Satoshi Wagahara/ASCII Media Works)
5. No Game No Life (Yu Kamiya/Media Factory)
6. Lord Marksman and Vanadis (Tsukasa Kawaguchi/Media Factory)
7. Trinity Seven: 7-nin no Masho Tsukai (Kenji Saito&Akinari Nao/Fujimi Shobo)
8. Strike the Blood (Gakuto Mikumo/ASCII Media Works)
9. New Testament: A Certain Magical Index (Kazuma Kamachi/ASCII Media Works)
10. Tokyo Ravens (Kohei Azano/Fujimi Shobo)
---
Boys manga Top 10
1. Trinity Seven: 7-nin no Masho Tsukai (Kenji Saito&Akinari Nao/Fujimi Shobo)
2. Tokyo Ghoul Remaster Edition (Sui Ishida/Shueisha)
3. Akame ga Kill! (Takahiro & Tetsuya Tashiro/Square Enix)
4. Knights of Sidonia (Tsutomu Nihei/Kodansha)
5. Arpeggio of Blue Steel (Ark Performance/Shonen Gahousha)
6. Yowamushi Pedal (Wataru Watanabe/Akita Shoten)
7. D-Frag! (Tomoya Haruno/Media Factory)
8. Neon Genesis Evangelion (Yoshiyuki Sadamoto/Kadokawa Shoten)
9. Attack on Titan (Hajime Isayama/Kodansha)
10. Gekkan Shoujo Nozaki-kun (Izumi Tsubaki/Square Enix)
---
Girls manga top 10
1. Chihayafuru (Yuki Suetsugu/Kodansha)
2. Akatsuki no Yona (Mizuho Kusanagi/Hakusensha)
3. Kousha no Ura niwa Tenshi ga Umerareteiru (Kariko Koyama/Kodansha)
4. L-DK (Ayu Watanabe/Kodansha)
5. Ao Haru Ride (Io Sakisaka/Kodansha)
6. Say "I love you". (Kanae Hazuki/Kodansha)
7. Kore wa Koi no Hanashi (Chika/Kodansha)
8. Kimi ni Todoke Remaster Edition (Karuho Shiina/Shueisha)
9. Nodame Cantabile (Tomoko Ninomiya/Kodansha)
10. Usagi Drop (Yumi Unita/Shodensha)
---
Source: Book Walker via press release