In 10 million yen-worth cosplay costumes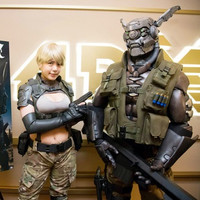 Six months after digital and DVD/Blu-ray release in the U.S. and Europe, Shinji Aramaki's latest CG anime film Appleseed Alpha finally gets theatrical release in Japan on January 17, 2015. It also has 4DX screenings at selected theaters. 4DX is a new technology to provide various environmental effects including seat motion, wind, mist, scents, and flash, to the audience in the theater.
G-cup gravure idol Miku Nakahara in Deunan's cosplay costume reports its 4DX experience with a cosplayer of Briareos. The total cost of their costumes is reportedly over 10 million yen (about US$85,000). Check MaiDiGi TV's video report below.
"Appleseed Alpha" Japanese poster
via: MaidiGi TV, Cinema Cafe