Three series formerly licensed by Tokyopop dated for digital release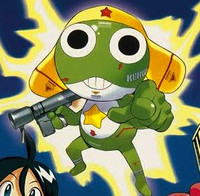 Viz has a handful of digital series debuts scheduled for December, three of which are rescues that were previously licensed by Tokyopop. In addition to a special digital-only chapter in the form of Vampire Knight: Life and the release of Yukarism vol. 1, both available now, December will see the digital release of Mikansei No. 1, Sgt. Frog, and Hands Off!.
The debuts kick off with Majiko's Mikansei No. 1 on December 23, followed by Mine Yoshizaki's Sgt. Frog and Kasane Katsumoto's Hands Off! on December 30.
More details on the new releases:
YUKARISM, Vol. 1 Rated 'T' for Teens
DIGITAL MSRP: $6.99 (U.S. / CAN) Available Now!
In this new series from the creator of YURARA and RASETSU, Yukari Kobayakawa, an accomplished author at the age of 17, writes with amazingly accurate details about historical Japan. As it turns out, he has the ability to slip into his past life in the Edo period—as a beautiful, renowned courtesan named Yumurasaki!
VAMPIRE KNIGHT: LIFE Rated 'T+' for Older Teens
DIGITAL MSRP: $2.99 (U.S. / CAN) DIGITAL EXCLUSIVE! Available Now!
This digital-only exclusive special chapter reveals more about Yuki and Zero's relationship. VAMPIRE KNIGHT is the hit gothic drama by Matsuri Hino. In the series, Cross Academy is attended by two groups of students: the Day Class and the Night Class. At twilight, when the students of the Day Class return to their dorm, they cross paths with the Night Class on their way to school. Yuki Cross and Zero Kiryu are the Guardians of the school, protecting the Day Class from the Academy's dark secret: the Night Class is full of vampires!
MIKANSEI NO. 1, Vol. 1 Rated 'T' for Teens
Digital MSRP: $4.99 (U.S. / CAN) Available December 23rd
You know what they say: If the century fits, then...travel back in time to become a pop-singing sensation! Vivacious Neo loves to sing and test the boundaries of 23rd-century modesty with her short, short skirts. But when she accidently travels back in time to the 21st century, it's time to sink or sing! Before she knows it, she's teamed up with the handsome Saya as half of the ultimate singing duo. But all her dreams may vanish if they can't put on one great concert. With Saya depending on her, will Neo keep time on her side?
SGT. FROG, Vol. 1 Rated 'T' for Teens
Digital MSRP: $4.99 (U.S. / CAN) Available December 30th
Sgt. Keroro, commanding officer of Planet Keron's invasion force, has a problem. After blowing his cover and losing his top-secret weapon, the frog-like alien has been cut off from the home world. To make matters worse, he's lost communications with the rest of his platoon. Now he has taken cover in the Hinata family household, where in exchange for doing his share of the chores, he gets his own room from which to secretly devise new plans of world domination!
HANDS OFF!, Vol. 1 Rated 'T' for Teens
Digital MSRP: $4.99 (U.S. / CAN) Available December 30th
Kotarou Oohira is a boy with a clueless touch-he has an unusual type of ESP that is transmitted via physical contact. When he accidentally gives his cousin Tatsuki this "gift" he comes to realize that there is much more to his powers than he ever imagined! Known throughout the manga world, veteran creator Kasane Katsumoto delivers a close-to-home fantasy filled with action, intrigue and the gentle touch of boys!
KERORO GUNSO Volume 1 © Mine YOSHIZAKI 1999
-------
Joseph Luster is the Games and Web editor at Otaku USA Magazine. He also likes to draw comics. His blog can be found at subhumanzoids. Follow him on Twitter @Moldilox.