"For persons aged 15 and above only"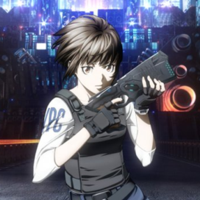 The official website for the PSYCHO-PASS anime project today announced that the upcoming feature film scheduled to open in Japan on January 9, 2015, is rated "R15+" by Eirin (Film Classification and Rating Committee). The rating means the film is for persons aged 15 and above only, and no one under 15 admitted. The reason for the judgement has not been specified. The rating will be also applied to the premiere screening event this Friday on December 19.
In the past July, the broadcast of the 4th chapter of the "New Edit Version" of the first TV anime was canceled due to a similar murder case by a 16-year-old high school girl.
Trailer
Poster visual
Source: "PSYCHO-PASS" official Twitter via Crank-In
© "PSYCO-PASS" Production Committee