The visitors will receive a newly written manga by Masashi Kishimoto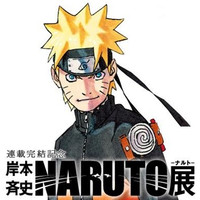 In commemoration of the conclusion of its serialization on the Shonen Jump magazine, a special exhibition for Masashi Kishimoto's Naruto manga series is scheduled to be held in Tokyo in the spring of 2015, then in Osaka in the summer. The official website for the event titled "Kishimoto Masashi Naruto Ten (Exhibition)" has been updated with the latest information and its main visual newly drawn by the author himself.
The Tokyo exhibition will be held at Mori Arts Center Gallery in Roppongi Hills between April 25 and June 28, 2015, then the Osaka event will be at Osaka Culturarium at Tempozan between July 18 and September 27. All of the visitors will receive an official guest book "Shinden: Kaze no Sho" (New Legend: The Book of Wind) which includes a 19-page new manga episode by Kishimoto. The premium edition of the advance ticket will come with another book "Shinden: Ikazuchi no Sho" (New Legend:
The Book of Thunder) which also includes another 19-page episode. The advance tickets for the Tokyo event
will go on sale in February 2015.
The exhibition will feature formative arts duplicating the famous scenes from the manga, Kishimoto's
original arts including the ones from the final episode, a special film screened on the 10m-wide screen, and a
replica desk at the library where Kishimoto worked over the ideas for Naruto.
Main visual
The official guest books "Shinden: Ikazuchi no Sho" (left) and "Shinden: Kaze no Sho" (right)
Images for the exhibition
Source: "Naruto Exhibition" official website
© Masashi Kishimoto Scott/Shueisha