The TV anime will be aired internationally soon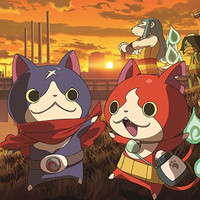 The mega-hit franchise's first feature film Yo-Kai Watch: Tanjyo no Himitsuda-Nyan! (The secret of the invention) was finally released on 408 screens across Japan last weekend. As expected, the time travel-themed film earned an amazing 1,628,893,000 yen on 1,485,000 ticket sales in its first two days, renewing Japanese film's opening weekend record since 2000 when the calucuration method was changed from revenue to box-office profits. It was also the highest record in the history of distributor Toho. The previous record was 1,480,000,000 yen by Hayao Miyazaki's anime film Howl's Moving Castle released on November 20, 2004. According to Toho, the film is expected to finish its run with around 6 billion yen or more.
Disney animation's latest 3D animation film Big Hero 6, titled Baymax in Japan, ranked 2nd with about 600 million yen on 464,000 admissions, which was the second best opening for a Disney Animation film
in Japan, after Frozen's 763,389,450 yen in March 2014.
Trailer for the film
Flyer
Source: Mantan Web
© LEVEL-5/Movie "Yo-Kai Watch" Project 2014